De toenemende vraag naar mobiliteit over de hele wereld, beperkte bouwruimte en steeds strengere eisen voor duurzame bouw, vereisen topprestaties op het gebied van engineering van spoorwegsystemen. Ons Application & Engineering-team zorgt ervoor dat edilon)(sedra de beste technische partner is voor uw project.
Waarde-engineering
Wij voegen waarde toe aan uw projecten door u vroegtijdig technisch advies te geven. De ingenieurs en CAD-ontwerpers van de afdeling Application & Engineering zorgen voor een optimale toepassing van onze railbevestigingssystemen in uw projecten, evenals de juiste installatiemethoden en de juiste aansluiting met andere railbevestigingssystemen.
Hieronder vindt u de volledige lijst van onze diensten op het gebied van Application Engineering.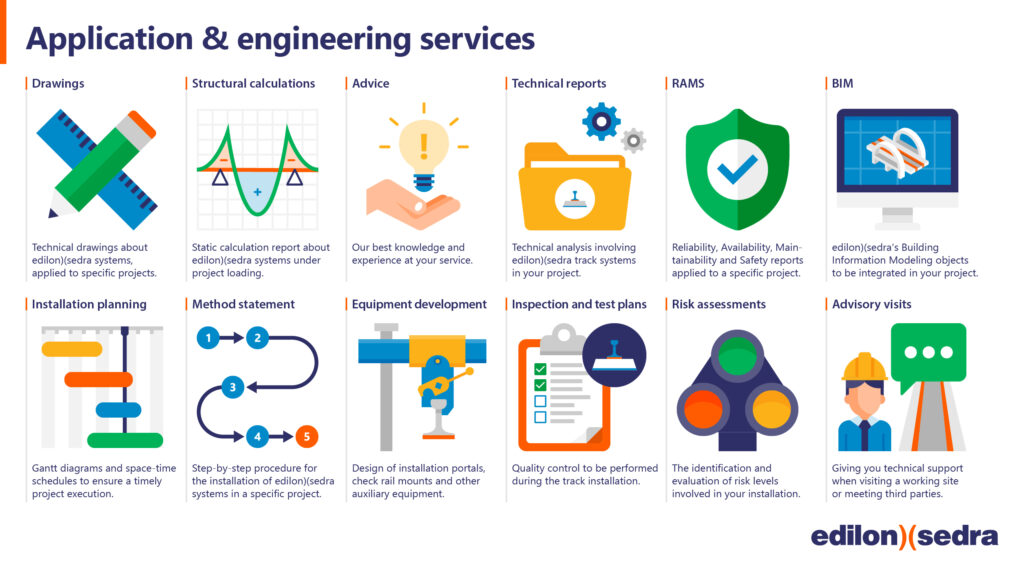 Meer informatie?
Als internationale speler in de spoorsector, leveren we al meer dan 50 jaar onze ballastloze spoorsystemen. Daarnaast bieden we technische ondersteuning in verschillende fasen van uw spoorwegproject.
Binnen onze kantoren werken gemotiveerde medewerkers met jarenlange ervaring in de sector.
Heeft u vragen over uw project, onze spoorsysteemoplossingen of toegevoegde waarde diensten? Wilt u graag bij ons bedrijf werken en uw vaardigheden op het gebied van spoortechnologie, verkoop, financiën of andere gebieden verbeteren? Kunnen wij u ergens anders mee ondersteunen?