Categorie:
Tram and Light Rail
Getting value out of partnership
EIFFAGE and edilon)(sedra have successfully installed the TramERS GB5® ballastless track system in Montescourt, France. Winner of the French CIRR 2021 Innovation Award, TramERSGB5® is a new and highly durable tramway track solution developed by French companies EIFFAGE Infrastructures (road and rail activities) and edilon)(sedra.
EIFFAGE's asphalt mixing plants in Montescourt provide the perfect location to use the design for what it was designed for: tough conditions with heavy rail and road traffic.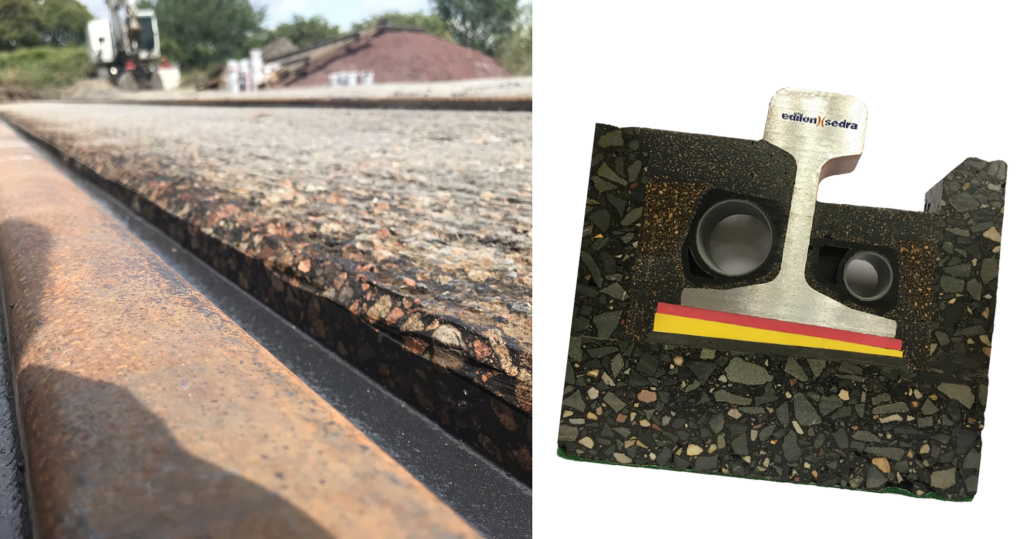 Installing in record time!
TramERS GB5® combines EIFFAGE's high performance GB5® asphalt with the advantages of the edilon)(sedra Corkelast® ERS (Embedded Rail System). The GB5® asphalt slab is quick and easy to install, allowing the rail to be installed just a few hours after asphalting! The liquid elastomer Corkelast® provides a continuously supported, highly electrically insulated and durable rail fastening system. In addition to high resistance and low maintenance, the environmental impact is significantly reduced, especially noise and vibration. The durable track, designed for mixed traffic tracks, is fully compliant with the latest and strict French SNBC regulations for CO2 reduction.
Sustainable tramway
With the Montescourt project, both companies are demonstrating their leading innovative position and strategy to contribute to sustainable tramway construction. The expertise and collaboration of the two companies' technical specialists has resulted in this successful state-of-the-art project. This is a good example of how innovation from partnerships can lead to a future-proof rail solution.
If you have a project with a critical short possession time, a high frequency of mixed rail and road traffic and want a low maintenance and environmentally friendly track, please contact our technical staff to provide you with our technical proposal.
The challenge
Quickly and easily installed asphalt/track combination that can withstand heavy road and rail traffic.
The solution
TramERSGB5®.
The result
A virtually maintenance free track.
An elastic track bearing system with optimal performance – economical, ecological, stray current insulating, good structure-borne sound insulation and long service life. LCC in perfection!
Our customer Leipziger Verkehrsbetriebe (LVB) was looking for a state-of-the-art track system with continuously elastic rail bearing that met the requirements for stray current insulation in accordance with DIN-EN 50122-2 and the reduction of structure-borne noise and vibrations. LVB therefore opted for our edilon)(sedra SDS (Sound Damping System) for the tram replacement project "Karl-Liebknecht-Straße" in Leipzig.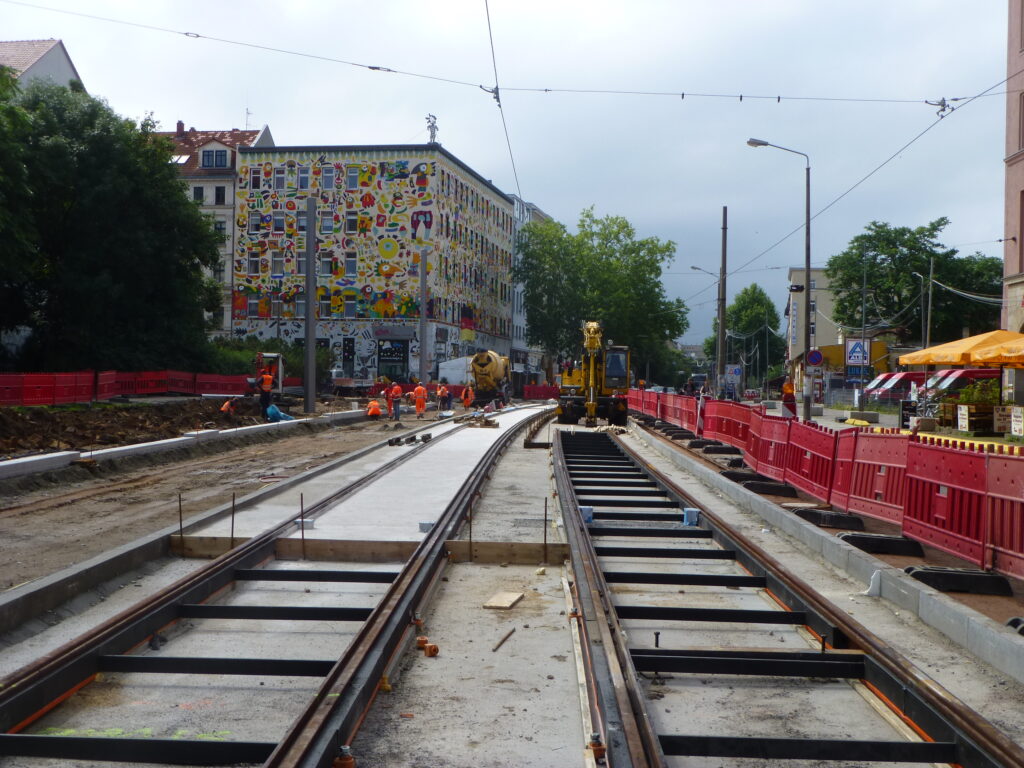 In addition to maintaining known principles and meeting the requirements of new standards, simple installation and a good price/performance ratio were also relevant for LVB when looking for a suitable system. A prerequisite for the selection of this system was the usability certificate according to DIN 45673-8 for the entire system. An innovative feature of the tram project in Leipzig was the use of prefabricated tie bars coated with PU foam, a joint development of the LVB and edilon)(sedra, which prevents cracking in the road surface.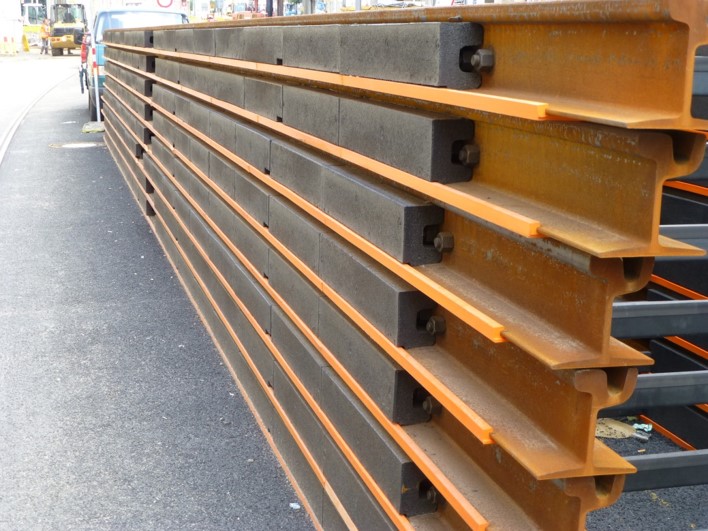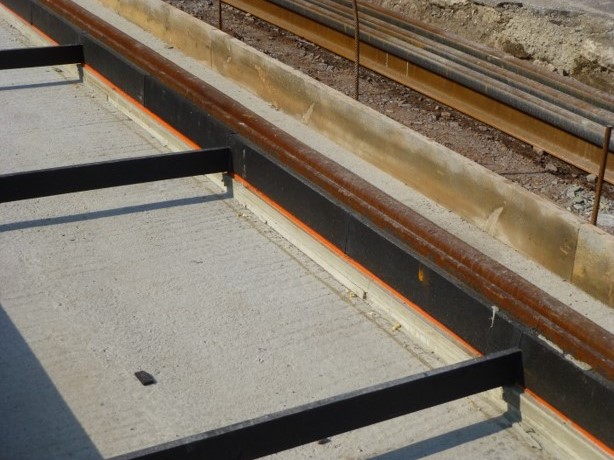 A total of 2200 m of track and 3 switches were installed with the modular edilon)(sedra SDS, consisting of 100% recyclable edilon)(sedra Filler Blocks for which an official Environmental Product Declaration (EPD) has been issued. In combination with the plastic-based joint grouting, edilon)(sedra Jointelast PU Extra 25, which remains highly elastic even at low temperatures, the flank adhesion could be ensured with deflection of up to 0.9 mm. All the required measured values, both for vertical rail deflection and leakage current insulation, could be successfully demonstrated in practice. The edilon)(sedra SDS system has already proven itself for more than 8 years on Karl-Liebknecht-Strasse in Leipzig.
The challenge
Development of a durable state of the art elastic track bearing system with proven fulfilment of requirements – regarding rail deflection, structure-borne noise and vibrations as well as stray current insulation.
The solution
edilon)(sedra SDS (Sound Damping System)
The result
An environmentally friendly, durable and economical elastic track bearing system.
For the new major Light Rail projects Line 2 in Kaohsiung and Ankeng Line 1 in New Taipei City, not only a variable track system was sought by the construction companies Chan Chun & Chun-Chi Construction Co., Ltd – our team particularly impressed the responsible project managers with technical know-how and teamwork.
Introduction
The holistic planning of modern track construction projects in urban areas is a comprehensive task that calls for experienced professionals and innovative products, such as our edilon)(sedra SDS-M (Sound Damping System – Modular), to take action. It is a variable track system that ranges from green tracks, sustainability requirements and visual criteria that take into account the use and demands of different road users along the entire line and generally high requirements for noise and vibration protection.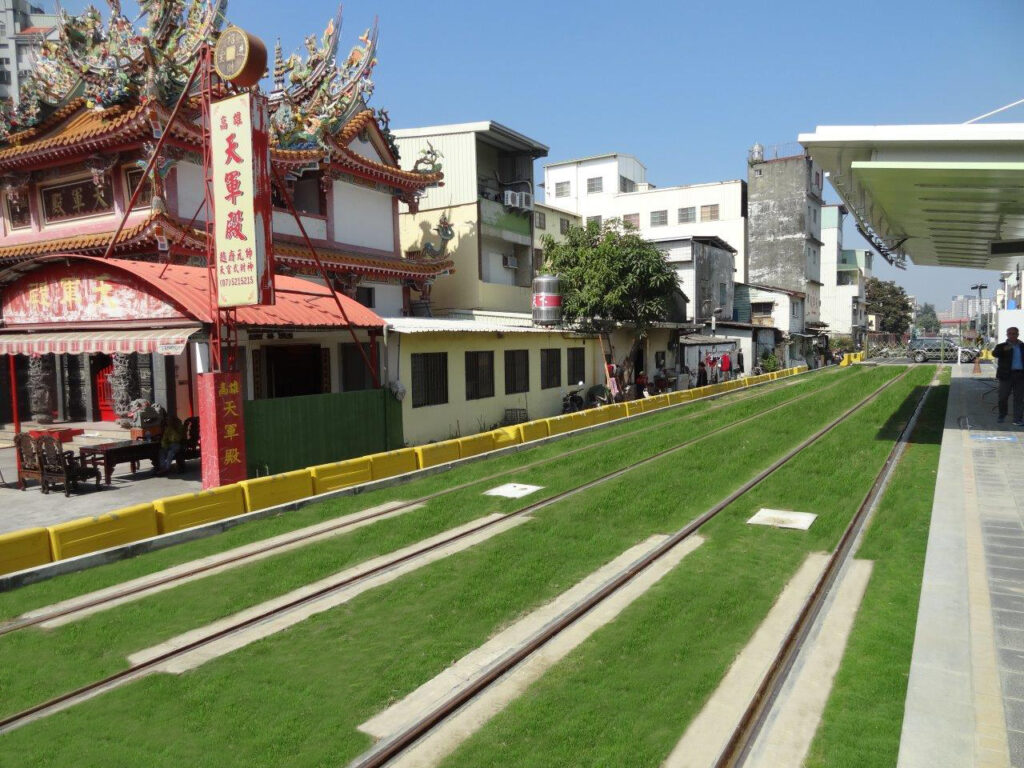 Projects Kaohsiung & Ankeng
Our team convinced by its in-depth technical advice, scientific engineering know-how, installation training and practical support from construction to logistics on site.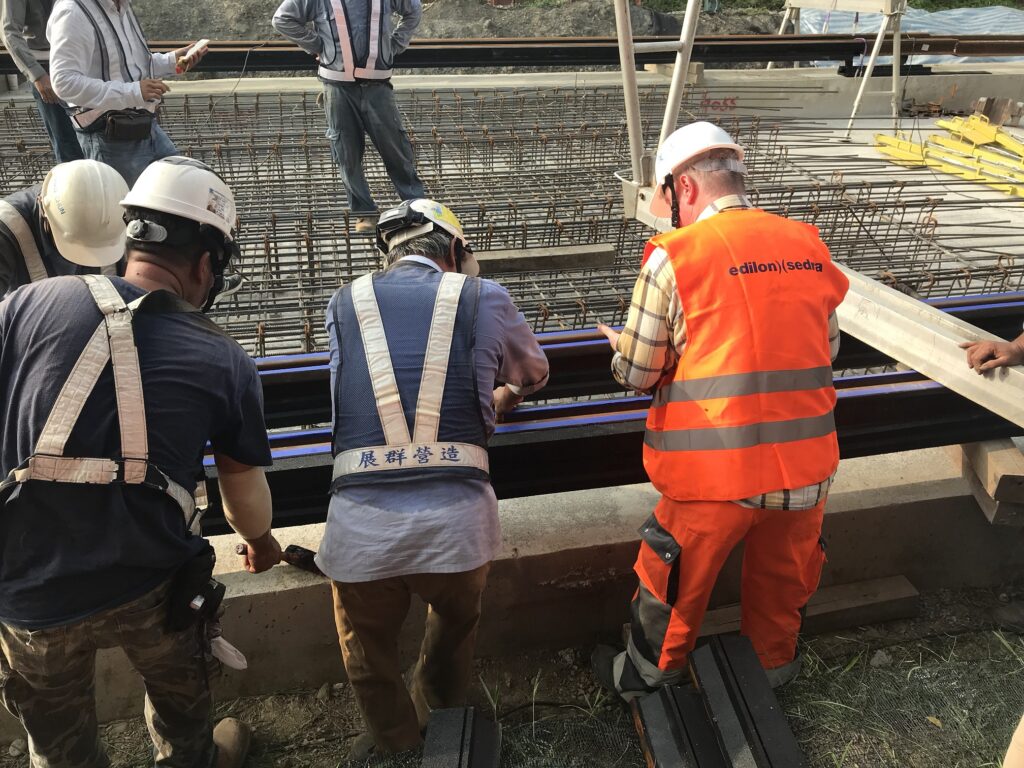 The modular edilon)(sedra SDS-M offers the possibility of generating different system stiffnesses and thus different superstructure resonance frequencies by means of elastic system insert strips. Especially in densely built-up and inhabited inner-city areas, this is an essential factor for the acceptance and successful implementation of construction projects. The system also offers high electrical track insulation in accordance with DIN 50122-2 (track/earth) and stands out due to a lightweight, simple and cost-effective design and installation compared to traditional track bearing systems. In Taiwan, point machines, rail drainage boxes and axle counter boxes were also insulated with the modular system after creating detailed design plans and illustrations.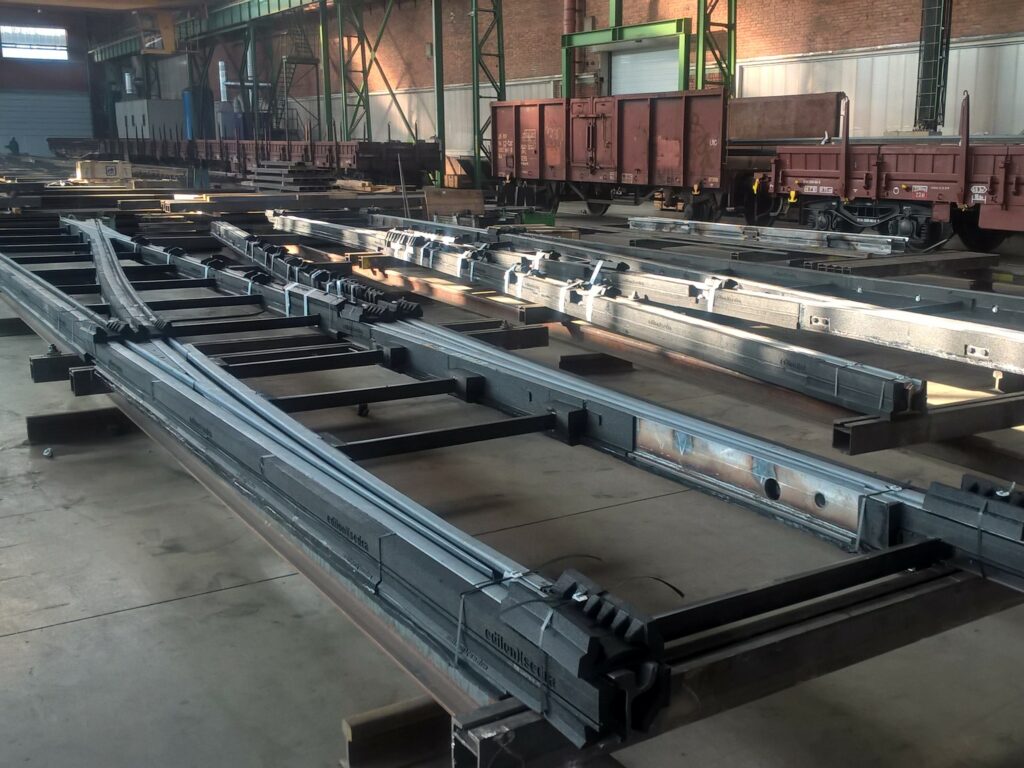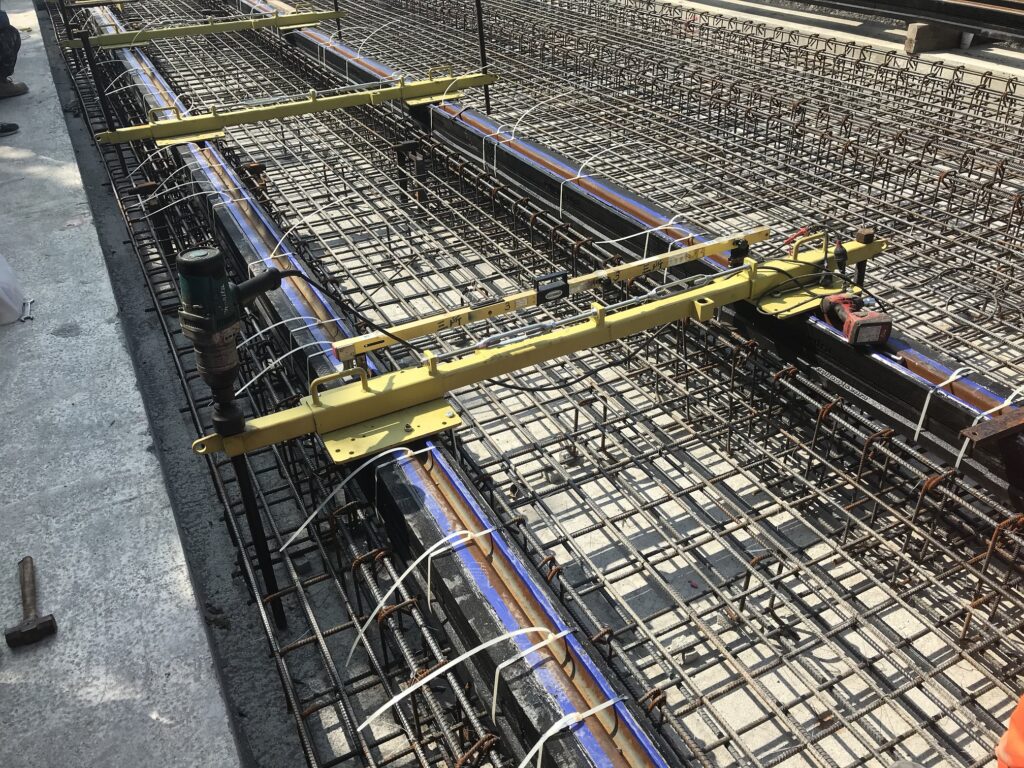 The challenge
Construction work in the cities with over one million inhabitants in compliance with the required superstructure resonance frequency of ≤ 25 Hz, "fail safe" construction method, high electrical track insulation and easy installation without heavy construction machines.
The solution
edilon)(sedra SDS-M (Sound Damping System – Modular).
The result
A modular track system for variable use typically as a grass track and road track but in this project also in the area of railway crossings.
Stray current is a major consideration when constructing Light Rail projects. Future corrosion of the rails and metallic assets in the ground (gas mains, earth stakes, cables, foundations, etc.) should be prevented by any means necessary.
For project Canberra light rail, our company was able to play an important role in this aspect. In 2017, 12 km of highly insulating edilon)(sedra Corkelast® ERS (Embedded Rail System) was installed as part of a brand new Light Rail network for Transport Canberra.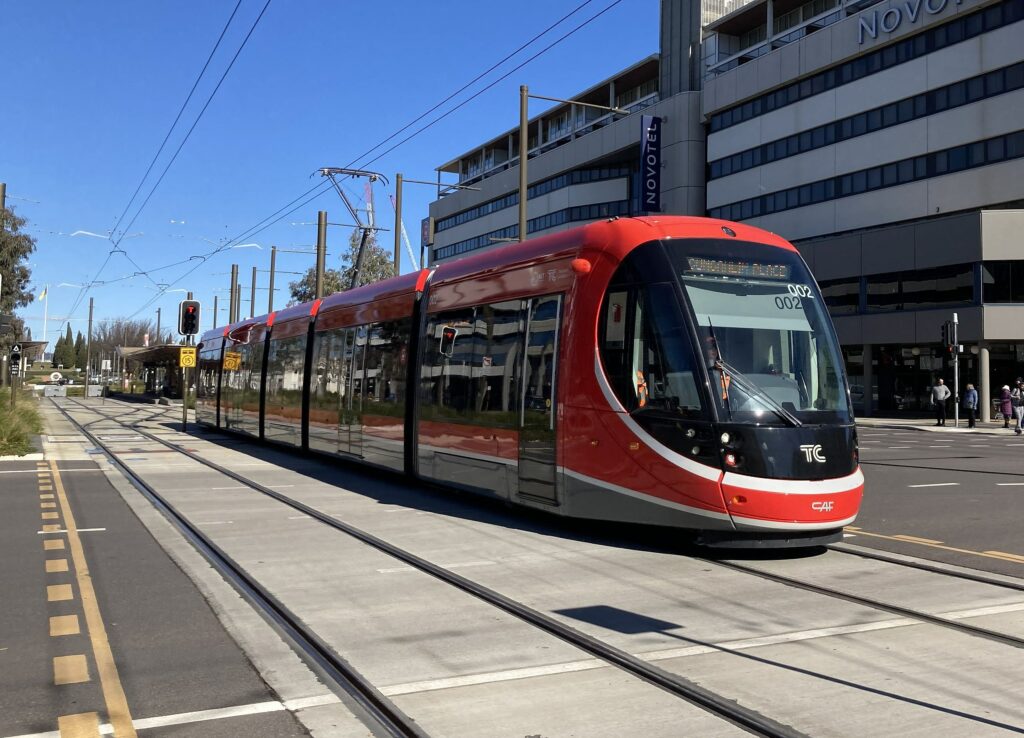 Two years after the installation, the Transport Canberra Stray Current working group carried out field tests to measure the electrical insulation values under different climatologic circumstances. Formally reported measurements show the embedded rail system continues to prove an excellent seasonal trend. Rail-to-earth resistance results in the wet surpass 20 ohm·km, while dry conditions show phenomenal readings in the order of 60 to 80 ohm·km!
The challenge
Elimination of stray currents >> prevention of corrosion of rails and metallic assets in ground.
The solution
edilon)(sedra Corkelast® ERS (Embedded Rail System).
The result
Proven excellent electrical insulation values in practice.
Watch the video to learn more:
See also: https://www.canberratimes.com.au/story/6029091/gungahlins-first-light-rail-test-tracks-laid/